Maximizing Your Law Firm's Online Visibility in 2023
Last Updated: Jan 30, 2023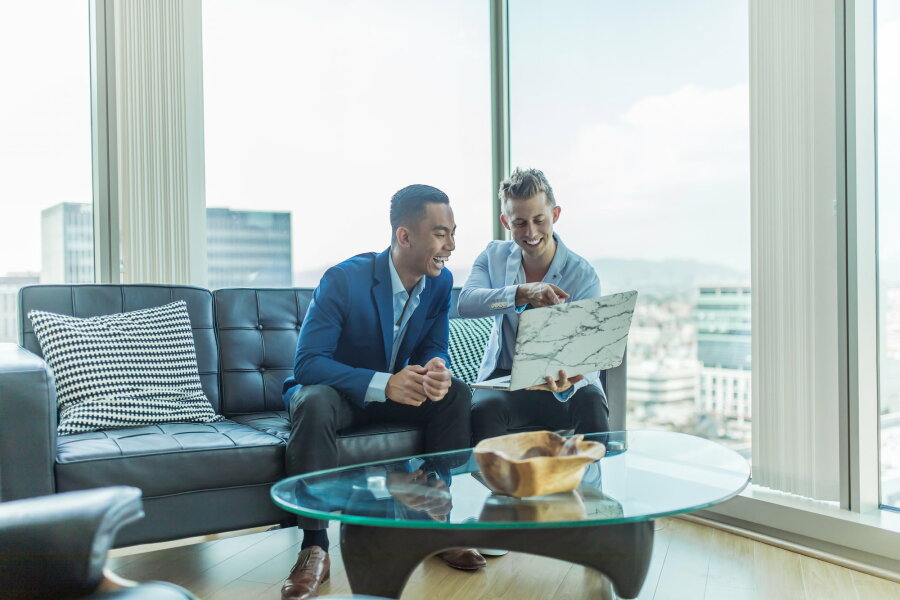 Strategies for Boosting Your Law Firm's Online Presence
The legal industry is one of the most competitive sectors in the world, and in order to stay ahead of the competition, law firms need to focus on boosting their online presence. In the digital age, having an effective online presence is essential for law firms to reach potential clients, increase revenue, and build their reputation. In this article, we will discuss how your law firm can boost its online presence in 2023.
Optimizing your law firm's online presence is essential for staying competitive in today's competitive landscape. As many consumers turn to the internet to find legal services, it is more important than ever to ensure that your firm is easily discoverable and presents a professional and on-brand image online. We will share some strategies you can use to improve your law firm's online presence in the coming year.
First and foremost, effective communication is key to keeping your law firm visible and generating revenue. Communicating with your audience can help ensure you stay ahead of your competitors. Keeping your current and prospective clients informed about the status of your law firm through regular updates and newsletters can help to build trust and strengthen relationships.
Another important aspect of building a strong online presence is maintaining an attractive and user-friendly website. Your website should be easy to navigate and provide visitors with detailed information about the services you offer, your team of lawyers, and how to contact your firm. Additionally, it is a good idea to invest in search engine optimization (SEO) to improve the ranking of your law firm's website on search engines. Let's begin by discussing how to communicate with your audience.
Communicate effectively with your audience:
Effective communication is essential for any business, but it is particularly important for law firms. Lawyers are often called upon to explain complex legal concepts and procedures to clients who may not have a legal background. Furthermore, the legal system can be confusing and intimidating, so it is crucial that your law firm is able to communicate clearly and effectively with your target audience.
One of the most important ways for a law firm to communicate effectively is by being responsive. Clients need to feel like they are being heard and that their concerns are being addressed. This means returning phone calls and emails promptly and keeping clients informed about the status of their case. Additionally, it's important to be available for meetings, whether in person or over the phone.
Another key aspect of effective communication is being clear and concise. As the legal system can be complex, it is important to break down information into manageable chunks that clients can understand. This means using plain language, avoiding jargon, and providing examples or analogies that help explain concepts. Additionally, it is beneficial to be transparent about the process and what clients can expect.
One of the most effective ways to keep generating revenue is to maintain communication with your clients. Make sure your current and prospective clients are aware of the status of your firm, any changes to your services, and any other relevant information. This can be done through regular updates on your website and social media channels, as well as email newsletters and other forms of communication.
Having a strong online presence is also essential for effective communication. Having a well-designed website can help establish trust and credibility while providing information about the firm's services and lawyers. Social media platforms such as Facebook, LinkedIn, and Twitter can be used to maintain brand awareness among clients, share legal news and updates, and provide helpful information. This will keep your law firm top of mind for when the right moment comes and your target audience requires legal services.
In addition to the above, it is important to understand the needs and concerns of clients. This can be achieved by conducting surveys, focus groups, or interviews. This will give you an insight into the needs and concerns of your clients, as well as their level of understanding of the legal system.
It is a valuable approach to be open to feedback and willing to make changes when necessary. This means listening to clients, taking their feedback into account, and making adjustments to the way you communicate.
Leverage online directories:
Online directories such as Lawzana.com can be a valuable resource for law firms looking to generate leads. These directories typically list the contact information and qualifications of legal professionals, making it easy for potential clients to find and connect with the right lawyer for their needs. Law firms can create a listing in a directory that includes the firm's contact information, practice areas, and lawyer biographies. By providing this detailed information, the firm can help potential clients understand the firm's areas of expertise and the experience of the lawyers.
At Lawzana, we understand the importance of lead generation, and we take pride in helping lawyers reach relevant audiences by providing a platform for users and members from around the world looking to connect with the right lawyer for them.
Search engines can sometimes prioritize well-known or high-performing online directories in their results, which can help law firms increase their visibility and reach a wider audience. Additionally, online directories often allow users to filter results by location, practice area, and other criteria, making it easy for potential clients to find a lawyer who is a good fit for their needs.
Online directories can be highly competitive, so it's important to ensure that a law firm's listing is complete and up-to-date and that reviews are managed properly to maintain a good reputation. This can help to increase the firm's visibility and credibility and can also help to establish trust with potential clients.
Overall, online directories can be an effective tool for law firm lead generation, but it is important to maintain a consistent listing with your current firm information, manage reviews, and take advantage of paid advertising options to stay ahead of the competition.
Improve your website's design and SEO:
Your website is often the first point of contact potential clients will have with your firm, so it is important to make sure it looks professional and is easy to navigate. Consider investing in a new website design or redesigning your existing website to make it more visually appealing and user-friendly. Additionally, optimizing your website for search engines like Google will make it more likely that potential clients will find your website when searching for legal services in your area.
Improving the design of your website can help make it more visually appealing and user-friendly, which can help attract and retain more visitors. This can be done by using a clean, simple layout, high-quality images and videos, and easy-to-read typography. Additionally, incorporating responsive design techniques, which allow your website to adapt to different screen sizes and devices, is a vital step to help improve the user experience.
When it comes to SEO, there are several things you can do to help improve your website's search engine rankings, such as keyword research and optimization, including meta tags, and growing your law firm's backlinks. Regularly monitoring and analyzing your website's traffic and search engine rankings can help you identify areas for improvement and track the progress of your SEO efforts.
It is also important to note that SEO is not something you can do once and then forget about. It is an ongoing process that requires regular monitoring and adjustments. A good strategy is to begin with keyword research, identify target keywords, and then optimize your website's content and meta tags to include those keywords. Additionally, ensure that your website is well-structured, with clear headings, subheadings and good use of internal links. Also, make sure your website is accessible to search engine crawlers. A good website design and SEO will help improve user experience, increase your visibility in search engines, and ultimately drive more potential clients to your website.
Use social media to engage with potential clients:
Using social media to engage with potential clients can be an effective way to build relationships and increase brand awareness. Social media platforms like Facebook, Twitter, LinkedIn, and Instagram can be powerful tools for reaching potential clients and building relationships with them. You can also use social media to share industry news, updates on your firm, and other relevant information that will be of interest to your target audience.
One content strategy for socal media is to regularly post updates and share relevant legal updates on your social media profiles, such as articles, infographics, and videos. This can help to establish your law firm as a thought leader in your industry and attract the attention of potential clients. Additionally, by actively listening and engaging in conversations on social media, you can build trust and establish yourself as a resource for your target audience.
Another way to engage with potential clients is through social media advertising. You can use social media platforms' targeting options to reach your ideal audience, and use the call-to-action feature to encourage potential clients to take a specific action like visiting your website or scheduling an appointment.
Leveraging social media to host live events or pre-recorded virtual webinars can also provide an interactive way to connect with potential clients and answer their questions in real-time. This can help build trust and establish a personal connection with your target audience.
Develop a content marketing strategy:
Creating content is a great way for law firms to boost their online presence in 2023. Valuable ontent such as blog posts, articles, and videos can help engage potential clients and build trust in the law firm. Content can also help to improve a law firm's search engine rankings, as Google favors websites with fresh, relevant content.
Content marketing is a way to attract and engage potential clients by creating and sharing valuable content that is relevant to their needs. Consider creating a blog on your website where you can share industry news, information about your services, and tips for dealing with legal issues. Additionally, you can create videos, infographics, and other types of content to share on your website and social media channels.
Developing a content marketing strategy is essential for creating and distributing valuable and relevant content that attracts, engages, and converts your target audience. A good content marketing strategy should start by identifying the target audience and understanding their pain points and interests. This can help create content that is tailored to their needs and addresses their specific challenges.
Once you have identified your target client audience, you can develop a content plan that outlines the topics you will cover, the format of the content, and the channels you will use to distribute the content.
It is also important to diversify your content types, such as blog posts, videos, infographics, e-books, and social media posts. This way, you can reach different segments of your audience and keep them engaged. Also, consider creating a content calendar that outlines when and where you will publish your content and helps you stay organized and on schedule.
Additionally, measuring and analyzing the performance of your content can help you understand what is working and what isn't, so you can adjust your strategy accordingly. Be sure to monitor to see what type of content is resonating best with your target audience. Tools such as Google Analytics, social media analytics, and marketing automation software can help you track and measure the performance of your content and understand the impact it has on your target audience.
Collect and respond to reviews:
Collecting and responding to reviews for a law firm can be an important part of building and maintaining a positive reputation. Positive reviews can help establish trust and credibility with potential clients, while negative reviews can provide valuable feedback that can help improve your firm's services.
One way to collect reviews is to actively encourage clients to leave feedback on review websites such as Lawzana.com, Google, and Yelp. This can be done by providing clients with a direct link to the review page or by including a call-to-action in follow-up emails or on the firm's website. Additionally, regularly monitoring these review sites can help to quickly identify and respond to any negative or spam feedback.
When responding to reviews, it is important to be prompt, professional, and empathetic. This can help to show that the firm values client feedback and is committed to providing the best possible service. You should acknowledge the issues raised in the review and explain how the firm is addressing them. If a review is positive, thank the client for their feedback and let them know that the firm appreciates their business.
Additionally, it can be beneficial to use reviews as an opportunity to showcase your firm's expertise and the positive experiences of your clients. Share your reviews on your website and social media profiles; this way, you can attract new clients and build trust with prospective clients.
Invest in your team:
Investing in your marketing team is crucial for the growth and success of a law firm. A strong marketing team can help increase visibility, generate leads, and ultimately drive revenue for the firm.
By investing in marketing initiatives that support your team, such as SEO, lead generation social media management, and content marketing, a law firm can reach potential clients and showcase their expertise in their practice areas.
Additionally, investing in marketing technology and tools can streamline team processes and provide valuable data for decision-making. Investing in your marketing team can have a significant impact on the success and growth of a law firm.
This type of investment can boost team morale, which can impact your bottom line. A positive and motivated team will often lead to positive outcomes for clients, and the good reputation that comes from happy employees will be noticed by potential clients.
Develop an effective website:
Having an effective website is essential for law firms to be successful online. Websites should be designed with the user in mind, be easy to navigate, and be visually appealing. Law firms should also ensure that their website is optimized for search engines so that potential clients can easily find it. Additionally, websites should include relevant content such as blogs, articles, and videos that will help engage potential clients and build trust in the law firm.
The website should also be mobile-friendly. It should have clear calls-to-action, such as a contact form or phone number prominently displayed, to make it easy for potential clients to get in touch. Additionally, including information about the firm's practice areas, lawyer biographies, and client testimonials can help establish credibility and build trust with visitors. It is also important to keep the site updated with fresh content, such as blog posts or news updates, to keep visitors engaged and coming back.
Conclusion
In conclusion, boosting a law firm's online presence in 2023 will require a combination of great communication, a professional website, a strong social media presence, effective content marketing, and more. By implementing these strategies, your law firm will be well on its way to attracting new clients and generating revenue.
Now is the time to consider content marketing as a way to establish your firm as an authority and attract new clients. By creating valuable, informative content, such as blog posts, infographics, and videos that educate potential clients about the legal issues they face, you can position your firm as an expert in your field. Make sure to promote your content across various platforms, like social media and newsletters, to reach as many people as possible.
Boosting your law firm's online presence is essential for success in the digital age. By following these tips, your firm can ensure that it is successful in the highly competitive legal industry.
If you would like to find out how we can help your law firm boost its online presence, please contact us at [email protected]