About Us
At Legal ASEAN, we are dedicated to delivering bespoke legal services that cater to the distinct requirements of both local and global investors. With a keen focus on the ASEAN market, our expertise is not limited to a specific industry or investor demographic. Instead, we harness our broad knowledge to offer unparalleled assistance to those seeking to navigate and expand their business endeavors within this dynamic region.
Our dedicated team excels in guiding clients through the intricate processes of structuring transactions to maximize value and minimize risk. We meticulously draft and negotiate definitive documents, ensuring clarity and robustness to withstand scrutiny. Additionally, our thorough legal due diligence offers our clients the confidence and security they need in their investments.
Beyond transactional support, we are adept in managing merger and acquisition ventures, navigating the nuances of investment laws and incentives, and offering specialized services for expatriates, including visa and work permit consultations. Recognizing the multidimensional needs of businesses, we have also cultivated strong affiliations with esteemed financial and accounting professionals. This ensures our clients receive end-to-end guidance in every facet of their investment journey, from initial consultation to financial accounting and reporting.
With us, you're not just hiring a legal firm; you're partnering with a dedicated team committed to your business's growth and success.
About Legal ASEAN
Founded in 2018
10 people in their team
Reveal phone
Website
---
Practice areas
Employment & Labor
Real Estate
Lawsuits & Disputes
Business
---
Languages spoken
---
Social media
---
Practice areas
Employment & Labor
As your business ventures into the promising ASEAN landscape, it's paramount to blend the skills and talents of both foreign and local workforce effectively. At Legal ASEAN, we have amassed extensive experience in this domain, evidenced by our expansive portfolio of clients who have benefited from our specialized services.
Every country within the ASEAN region has its unique employment nuances and regulatory tapestry. To thrive, it's essential to craft employment contracts and employee handbooks that are not only legally sound but also resonate with the local ethos and cultural sensitivities. We pride ourselves on our capability to draft such documents, ensuring they are robust, fair, and in sync with local regulations.
The intricacies of local employment laws in the ASEAN region can be a challenging terrain for newcomers in the market. Our seasoned team stands at the forefront of this complex area, equipped with the depth of knowledge and the passion to guide businesses of all scales through their employment needs. With our team, you receive more than just legal advice; you gain a partner committed to safeguarding your business interests and ensuring a harmonious work environment for all your employees.
Employment Rights
Job Discrimination
Labor Law
Sexual Harassment
Wrongful Termination
Hiring & Firing
Real Estate
In the intricate world of real estate, our firm stands out with its profound experience in serving developers, sellers, and buyers alike. We bring a holistic approach to the real estate sector. Whether you're initiating a grand development project, buying your dream property, or making a strategic sale, our team is adept at handling every facet. We excel in drafting precise legal documents, negotiating terms that safeguard your interests, conducting thorough land due diligence, and ensuring a smooth registration of transfer of title at the provincial land office.
Navigating the realm of land titles, especially in regions where the norms differ vastly from what one might be familiar with, can be daunting. In such contexts, assessing a good title isn't always a straightforward task. This is where our expertise becomes indispensable. We delve deep into the intricacies of local regulations, ensuring our clients are well-acquainted with the nuances of ownership, leasehold rights, and the essence of what constitutes a marketable and impeccable title in real estate transactions.
With us, you're not just engaging a legal team; you're partnering with experts who prioritize your peace of mind, ensuring that every transaction is transparent, compliant, and in line with your objectives.
Commercial Real Estate
Landlord & Tenant
Foreclosure
Lawsuits & Disputes
Business disagreements are a natural part of the landscape. They might arise from differences in perspectives between partners, unexpected challenges in employer-employee relations, or differing opinions among shareholders. Sometimes these disputes, despite their origin, can evolve into complex legal matters.
At Legal ASEAN, we've built our reputation on being the trusted guide through these complexities. Our seasoned team, with its vast experience across multiple sectors, is ready to stand by your side. They've encountered a myriad of cases and have developed a keen sense for effective strategies, no matter how intricate the situation is.
Whether your case necessitates a formal court proceeding, a more collaborative approach in arbitration, or some strategic discussions before getting to trial, our objective remains unwavering: to find the best path forward for you. But we also recognize that these times can be stressful. That's why, beyond just providing legal advice, we aim to demystify the journey for you, ensuring you're informed, comfortable, and confident at every juncture.
Choosing us means you're not facing these challenges alone. You have a committed team behind you, a team that's as invested in your well-being as they are in finding a resolution.
Appeal
Class Action
Litigation
ADR Mediation & Arbitration
Business
In today's diverse and dynamic business world, both local and international clients come with their unique investment challenges and aspirations. We understand that. Rather than limiting our expertise to a specific industry or type of investor, we've broadened our horizons to meet the diverse needs of businesses looking to grow in the ASEAN region.
Our services encompass a holistic approach to business expansion. Whether you're at the initial stage of structuring your transaction, in the midst of drafting crucial documents or diving deep into the intricacies of legal due diligence, our team is adept and ready to guide you. Our seasoned professionals ensure that every negotiation we enter and every document we draft is not only legally sound but also aligned with your business objectives.
But our support doesn't end there. As businesses contemplate mergers, navigate the maze of investment laws, or seek to understand regional incentives, we stand alongside them. For our international clientele, the challenges of relocation can be daunting. Recognizing this, we offer specialized services for expatriates, simplifying processes like visa applications and work permits.
Moreover, we've cultivated strong relationships with experts in financial accounting and reporting, ensuring that our clients have all their bases covered, from legal intricacies to financial compliance.
In essence, when you partner with us, you're not just getting a legal ally. You're gaining a comprehensive support system, dedicated to your success in the ASEAN market."
Contract
New Business Formation
Due Diligence
Business Registration
Legal Document
Licensing
Merger & Acquisition
Tax
International
Investment
Our Partners and Associates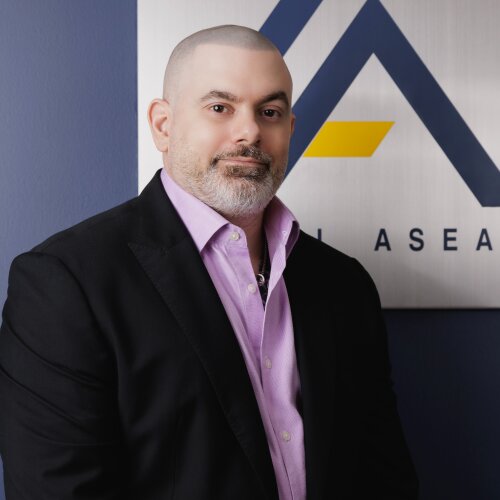 Mark D'Alelio
Managing Partner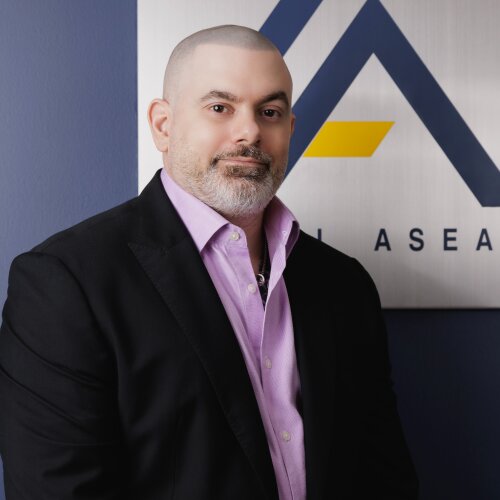 Mark D'Alelio
Managing Partner
Legal ASEAN stands as a beacon of legal expertise in the ASEAN region, founded and steered by the venerable Mark D'Alelio.
With a rich tapestry of over two decades of hands-on experience, Mark D'Alelio has become an authoritative figure in ASEAN's legal landscape. His vast expertise encompasses a wide range of corporate and commercial practices. From guiding businesses through acquisitions and dispositions, orchestrating joint ventures, drafting robust commercial contracts to navigating the intricacies of labor law and regional compliance - Mark's proficiency is both wide and deep.
Additionally, Mark's adeptness doesn't stop there. He offers invaluable real estate guidance, particularly to developers and those in the hospitality sector. His knowledge extends into the realms of energy, power, and project financing sectors, showcasing his versatility and comprehensive approach to legal matters.
Mark's reputation is particularly notable when it comes to cross-border transactions in the ASEAN region. He has been the go-to advisor and representative for major corporate entities and business conglomerates originating from countries like Japan, Europe, Singapore, China, and Thailand. His stellar works have garnered recognition, particularly in countries like Thailand, Myanmar, and Vietnam, underscoring his influence and reach.
Beyond ASEAN, Mark's credentials are globally recognized. He holds memberships with the Bars in both New York and Massachusetts, U.S.A., which speaks volumes about his dedication to the legal profession and his commitment to serving clients with the utmost integrity and expertise.